Join us for a live webinar: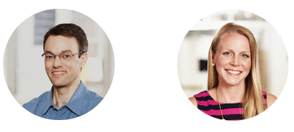 Wednesday, June 3 – 2:00PM-2:30PM EST
Teachers play a critical role in creating positive school cultures. During this session, we will discuss how to use the Panorama Teacher Survey to engage your teachers and to effectively collect their feedback. 
The Panorama Teacher Survey is a research-based teacher perception survey that measures key topics, such as School Leadership, Teaching Efficacy, Evaluation, Educating Diverse Students, and ten other topics. The survey is designed as a tool for school administrators looking to plan for next school year, understand their own leadership abilities, and build stronger relationships with their teachers. 
In this session, Dr. Hunter Gehlbach (Director of Research) and Elizabeth Loehr (Client Services Manager), both former teachers, will discuss:
How the Panorama Teacher Survey is different than other teacher surveys
The survey design principles and research behind the instrument
Best practices for collecting teacher feedback and engaging teachers in the feedback process
How to use Panorama's online survey platform
Principals, assistant principals, and other school administrators are especially encouraged to attend. Access to a recording and slides from the webinar will be available to registrants following the live event.